Adding Twitter Cards
22 Feb 2015
It's really nice to see Twitter starting to open up to developers again after a long period of wanting to keep everything closed.
The Fabric mobile tools look very interesting and I may test them out soon, but right now I thought I'd have a go at adding Twitter Cards support to my various blogs.
In theory it's as simple as this (according to their web site):
Choose a card type you want to implement.
Add the pertinent meta tags to your page.
Run your URL against the validator tool to be approved.
After approval, tweet the URL and see the Card appear below your tweet.
Use Twitter Card analytics to measure your results.
This is the first post I'll tweet when the new meta-tags have been added, so the post may take a couple of goes to get working. I've been approved (apply via the validation tool) and it all looks good, so fingers crossed!
Update - It worked!
Not quite as I expected - on the Twitter web site there was a "View Summary" link rather than it being automatically inline, but it looks quite good: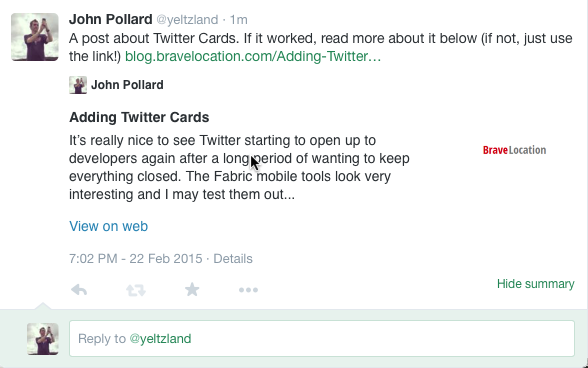 In the iOS app you get a little card icon next to the time posted (which I've not noticed before but is actually on a few tweets now I see it), and you get the full experience if you click on the tweet. Nice :)